Meteorological data is complex. The weather community has been trying to bring context to this information in a variety of ways for decades. Whether introducing new ways to display data or naming conventions for alerts, it is still a challenge to help individuals and businesses understand why weather matters and how they should take action. This is why we are so excited to have launched the industry-leading Xweather OpenAI Weather Plugin, as it aims to bring contextualized weather data to the forefront of the conversation. The plugin was developed with an ambitious goal in mind, says Samuli Hänninen, Head of Vaisala Xweather: "This plugin is designed to help make better decisions that promote the wellbeing and safety of businesses, individuals, and society as a whole". 
"Three times in my life I've had a chance to experience technology inflection points first-hand: Graphical web, 3D mapping, and last autumn, LLMs [Large Language Models]. All three were mind-blowing. You've been following technology's maturation for what feels like ages, and then, all of a sudden, the nut is cracked! Seeing the tech adaptation curve moving forward right in front of you is an incredible feeling!"  
Even before all the LLM buzz, we've been pushing the limits in the weather and forecasting realm here at Xweather with numerous advancements in the weather data and software space. The latest of these occurred just a few weeks ago with the launch of our OpenAI weather plugin. According to Scott Mackaro, Xweather's Head of Innovation and Insights, it is "magic... and it's just the beginning." 
Maybe not exactly magic, but it feels like it, redefining how users interact with weather data thanks to its ease of use and rich functionality. And as we rapidly progress towards an AI-enhanced future, "we firmly believe that generative AI and LLMs hold the potential to bring context to weather and climate information like never before", says Mackaro. 
 ... "we firmly believe that generative AI and LLMs hold the potential to bring context to weather and climate information like never before"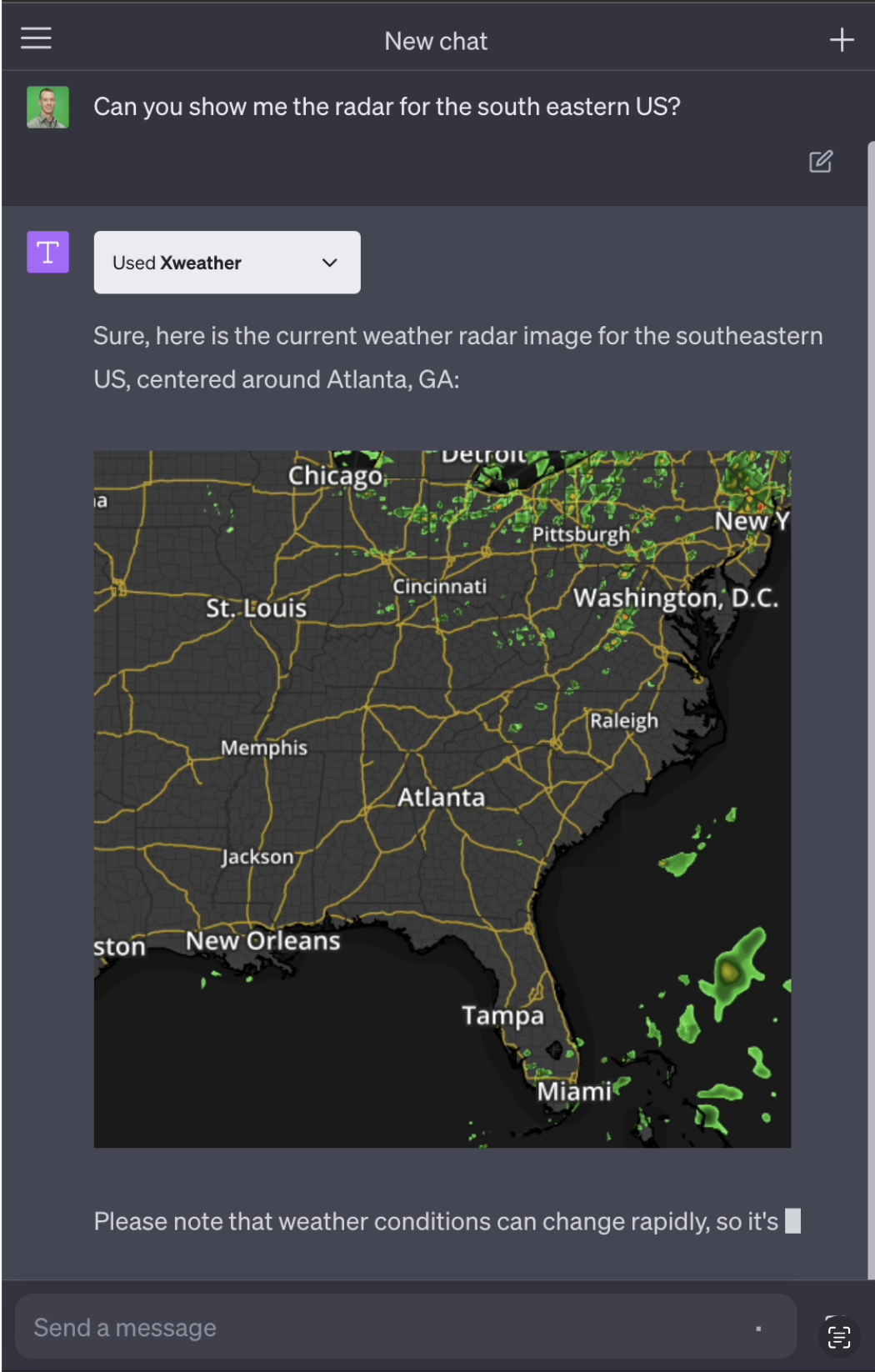 In short, this is what the plugin offers: 
Local Weather and Forecast Information: An absolute prerequisite for any weather-sensitive application. 

Radar Images: Essential real-time visualization of weather patterns that provide a comprehensive view of precipitation. Track storms, monitor rainfall intensity, and make informed decisions based on the latest information at your fingertips. 

Air Quality Index: Crucial air quality information in response to growing environmental concerns. This feature delivers real-time data and comprehensive insights into a range of pollutants. 

UV Radiation Levels: Accurate UV radiation measurements aid in recognizing the importance of sun safety. Access reliable UV index ratings and take necessary precautions to prevent sunburn and protect against long-term sun damage. 
Naturally, we are committed to the continuous improvement and expansion of the OpenAI weather plugin's capabilities. We plan to introduce additional features and enhancements based on your feedback and emerging weather trends, ensuring that users always have access to the latest advancements in weather forecasting and analysis. 
Stay tuned to see a number of industry-leading organizations and products incorporating this "magical" weather solution over the coming weeks and months – and in the meantime, test the plugin out for yourself by searching for Xweather in ChatGPT Plus.
We look forward to seeing what you create!